◆ 1923 -1992
◆ Eternal Titles(15th Lifetime Meijin / Lifetime Judan /
  Lifetime Oui / Lifetime Kisei / Lifetime Osho)
◆ Class A or more continuing in 44 terms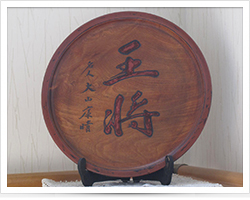 Mr.Yasuharu Oyama had been used to come to Hirosaki and being our regular guest when he is alive. (Shogi is Japanese chess.
What is the Shogi?
)
As our owner of Miyazaki Ryokan also loved Shogi, we had a really great time with him playing Shogi, receiving a book of calligraphy written by him, and also enjoyed travel around together.
Such story makes our hotel a big fun of Shogi. We even named our guest rooms pieces of Shogi (ex. 歩:FU 角:KAKU 飛車:HISHA). There is the calligraphy written by himself "将棋は歩から(meaning Shogi start from FU)" in the room of FU. Also we show many of his art works of calligraphy for our customer.
In the reception, there are many "Shogi" games for anybody. Please be free to ask us. We'd like you to enjoy your staying here with it. Then whoever people like Shogi or not, hopefully to look at his calligraphy and feel it as a Shogi Master for a long time in his life.
Reference :『Oyama Yasuharu no Bansetsu』Chikuma Libraly ,
written by Kawaguchi Yshihiko (Japanese only)